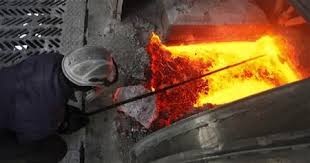 Foundries produce casting components for Auto, Tractor, Railways, Machine tools, Defence, Earth Moving /Textile / Cement / Electrical / Power machinery, Pumps / Valves etc. The Indian industry has a turnover of approx. USD 18 billions with export approx. USD 2.5 billions in the year 2015.
It has the largest foundry sector in the world after USA and China. It is a well established industry and various types of castings which are produced are ferrous, non ferrous, Aluminium Alloy, graded cast iron, ductile iron, Steel etc for application in Automobiles, Railways, Pumps Compressors & Valves, Diesel Engines, Cement/Electrical/Textile Machinery, Aero & Sanitary pipes & Fittings etc & Castings for special applications.
Out of 5000 units present in the country 90% of them are present in the Medium and SME sector. Further these industries are present in clusters of Belgaum, Coimbatore, Ludhiana, Agra, Rajkot, Kolhapur and Howrah. Several large foundries are modern & globally competitive. Many foundries use cupolas have started using LAM Coke. However, these are gradually shifting to Induction Melting.