| | |
| --- | --- |
| Company Name: | Aarti Steels Ltd |
| OldName: | |
| Group : | |
| Address: | HO/Corp Office |
| | G.T. Road, |
| | Miller Ganj |
| City: | Ludhiana 141003 Ludhiana Punjab |
| Tel: | 0161-3006100 |
| Fax: | 3006150 |
| Mktg-Email : | [email protected] |
| HR-Email : | |
| Purchase-Email : | |
| Brands Owned : | |
---
About the Company :
Aarti Steels Limited, a fully integrated steel manufacturing company with state of art plant located in Punjab and Orissa with an total installed capacity of 2 lakh tonne per annum and 90 MW of Power.
They manufacture total range of Carbon, Alloy and Special Steels conforming to National / International Specifications including customer specific requirements through a dedicated route of steel making i.e. Electric Arc Furnace – Secondary Refining – Vacuum Degassing Route / Con-cast with Electro Magnetic Stirring / Snorkle Casting practices.
---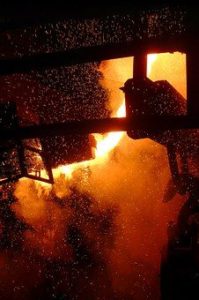 Aarti Steels Ltd has successfully commissioned its billet caster in its Cuttack plant in Odisha. The billet caster was redesigned ...
Read More
Personnel
Shiv Prasad Mittal
– Chairman & Managing Director
Mahesh Mittal
– Director
Rajeev Mittal
– Director
Vinayak Mittal
– Director
Ltp Narayanan
– President – Cuttack Works
Binay Samal
– HOD – DRI (Cuttack)
Baljeet Singh
– General Manager (Cuttack)
---
Prabhat Kumar Mohanty
– Sr. Gen.Mgr (Cuttack)
Prem Sinha
– HOD – Quality (Ludhiana)
Ajesh Rai
– Sr. Engineer (Ludhiana)
Ravneet Goel
– Manager
P K Jain
– President
Krishan Kumar
– Dy. General Manager (Ludhiana)
Pritish Dash
– Manager
Other Office Address
Plant Focal Point Ludhiana 141010 Ludhiana Punjab Tel : 0161-3006200 Fax : 3006250
Plant Ghantikhal , P.O . Mahakalbasta, Via. Athgarh, Mahakalabasta 754029 Athagad Cuttack Odisha Tel : 0671-3061000, & 2871282 /2309285 Fax : -3061150, 2309407 Email :
[email protected]/[email protected]
Plant Ghantikal Power Plant Mahakalabasta 754029 Athagad Cuttack Odisha Tel : 0671-3061000, & 2871282
Plant Vill Uchhi Mangli, P.O. Ramgarh Outside Octroi Post Chandigarh Road Ramgarh Ludhiana East Ludhiana Punjab Tel : 0161-3006300 Fax : 3006350 Email : [email protected]
Branch Office 101, Padma Palace 86 Nehru Palace New Delhi 110019 Delhi Delhi Tel : 011-26443775
Plant Focal Point Ludhiana 141010 Ludhiana Punjab Tel : 0161-3006200 Fax : 3006250
HO/Corp Office G.T. Road, Miller Ganj Ludhiana 141003 Ludhiana Punjab 0161-3006100 3006150
---